7. August 2021
Share the article
The difference between Tuxedo vs Suit
7. August 2021
Are you going to an exceptional event or your wedding? This article is for you, gentlemen!
What's the difference between a Tuxedo and a suit?
We often hear this question. So today we will talk about the physical differences between tuxedos and suits, intangible differences and exceptions to the rule.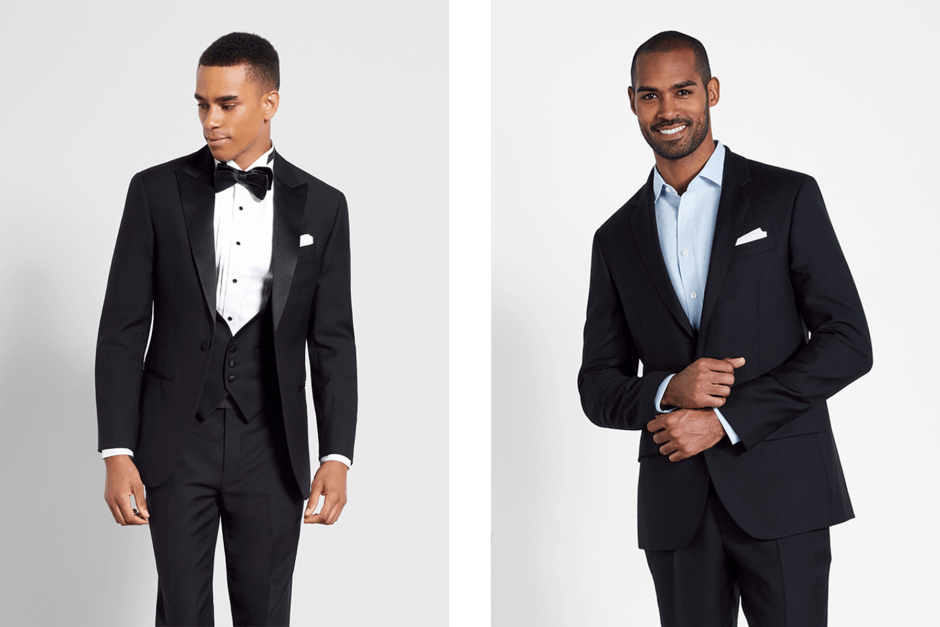 Black suit Tuxedo vs Black Ceremonia
We will write mainly about physical differences.
The primary physical difference between a tuxedo and a suit is the presence of satin. Traditional tuxedos have a satin hem on the lapels, buttons, pockets on the pockets and a satin side stripe on the pants. Suits contain no satin at all and usually have either plastic buttons or buttons covered with the same fabric as the coat (aka custom buttons.) Although some modern tuxedo options have minimized the use of satin on thin satin lapel trim and thin satin beaded pants. But the main difference between them is that tuxedos have satin and suits do not. Of course, there are exceptions to each rule.
As we have already said, if I invite you to an event where a tuxedo is prescribed and you do not have one with you, you better not participate in the event as if you had broken the protocol. Other physical differences, such as suitable accessories, are usually only considered when talking about traditional black tie standards. For most modern tuxedo features, such as balls and weddings, the boundaries between what to wear a tuxedo and a suit have been blurred. It is common, though really less and less, to wear long ties and vests with a high attitude towards tuxedos. However, this is traditionally only suitable for suits. Tuxedos are historically worn only with butterflies and cummer jackets or vests (vests with a low posture).
Mentioned exceptions
There are several formal options, both traditional and modern, that do not include any of the satin already mentioned. The first is what we know as the "tropical black tie" or better known as the white evening jacket. It is traditionally worn with a white shirt with a collar, black accessories, black pants and a white evening jacket. The jacket should have 1 button on the front, self-closing pockets and a flap. It is a tuxedo, but not satin.
Another exception is the more modern tuxedo again without satin.
A more modern tuxedo without satin exists in several styles, made primarily to meet the growing demand in the wedding market. Tuxed lines like the Allure Men Tuxedo by Jean Yves produce almost identical tuxedos, but in different colors. While the black, steel-gray and heather-gray tuxedo contains satin, the tanned and slate-blue tuxedo does not. Because they are part of a larger line of the same tuxedos, they are still considered tuxedos and are a very popular option for balls and weddings during the day.
Other differences are Gray Twilight Tuxedo vs. Gray twilight suit
It is important to realize that a tuxedo is not just an apparent physical difference, but brings a different message than a suit. Some people usually wear a T-shirt and jeans. And at first it would seem that to any of us who seldom dress, the suit will send as strong a message as a tuxedo, because it is just as rare. Are you one of those people who wear a suit every day?
Many people wear suits every day. Whether you do it or not, it is a social norm. You can go to the grocery store in a suit and no one will think it's weird at all. For example, if you decide to wear a suit for your wedding, there is a good chance that the suit will be worn by others present. And it's not their wedding day. Do you see the difference?
If you are going to get married, be sure to make this day special, not only for yourself, but also for your future wife. By dressing, we show respect to the people we meet. Make this day special for you.